I've got two different baby showers to show you but both are the same theme. I thought it would be fun to see two different styles and takes on this fun idea. The baby shower theme is "Lil' Pumpkin"
_______________________
This Lil' Pumpkin shower was originally hosted over at This-n-That Williams.
——
Last week, my sisters-in-law and I got together to throw a fabulous baby shower for Jessica and her baby boy, who will be here in december. They hadn't picked out a name, (and still haven't as far as I know), and they didn't have anything really picked out for the nursery, so we went with an easy lil' pumpkin theme, since it was october, and pumpkins are easily found. Not to mention, Jamie has a plethora of fall decor, so this made decorating for the party a piece of cake!
So there wasn't much to it, no games, just some really great food, some awesome people and lots of baby boy gifts, gotta love it. Sorry, but there are a ton of photos ahead. Enjoy the party, we sure did!
The lil' pumpkin invite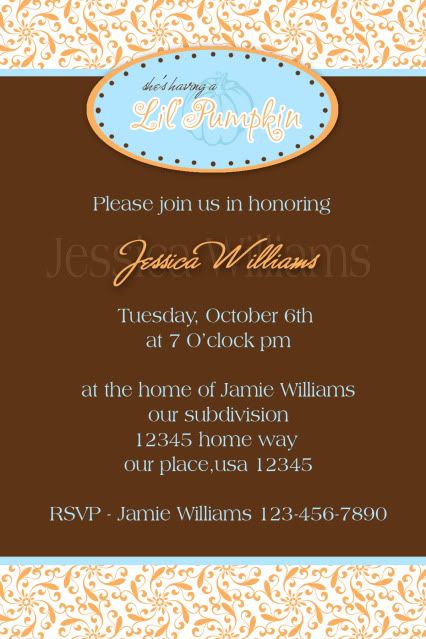 Jenina, my sister-in-law, is a great cook, and she had some seriously fabulous food for this party. There were pumpkin pie tarts, pumpkin cinnamon rolls, and the most delicious fall salad ever!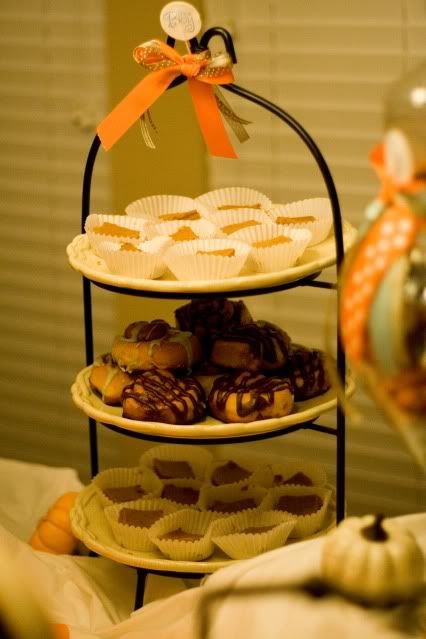 Some of her yummy cinnamon rolls. The ones I brought home were gone quick, Kevin loves those things, and I NEVER make them!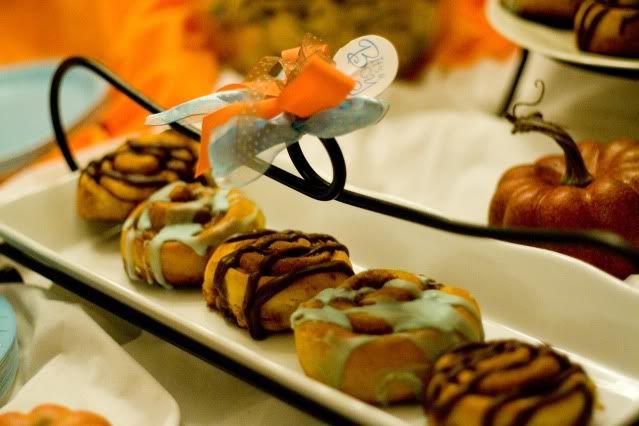 Jamie has a friend that made this awesome cake! It was delish, and looked absolutley amazing.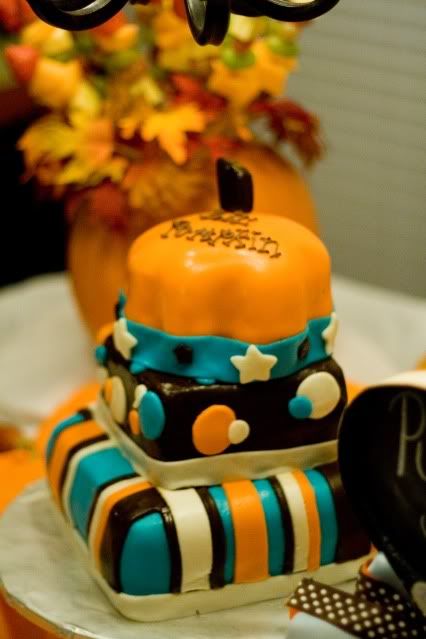 Jamie made this cute cheese ball, funny thing is Jamie hates them and wouldn't even try it.:)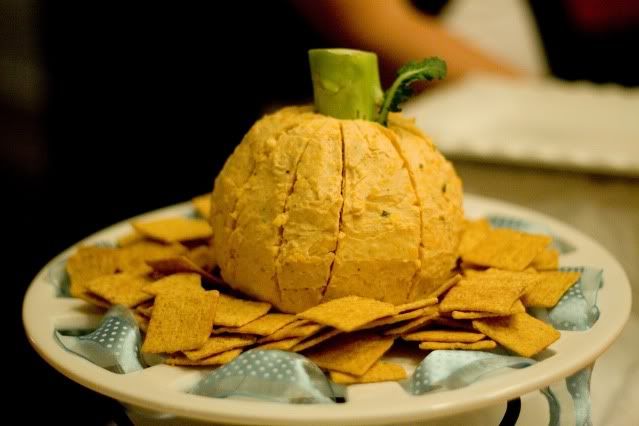 My mother-in-law went all out and made this awesome fruit display. Fruit on skewers, stuck in a pumpkin. It looked great, and I'm sure took her awhile to do it too.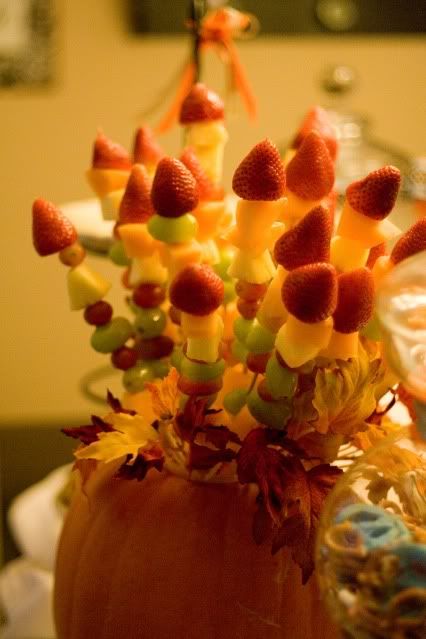 This is what I make, chocolate covered pretzels, Kevin was very happy when I brought a bunch of them home.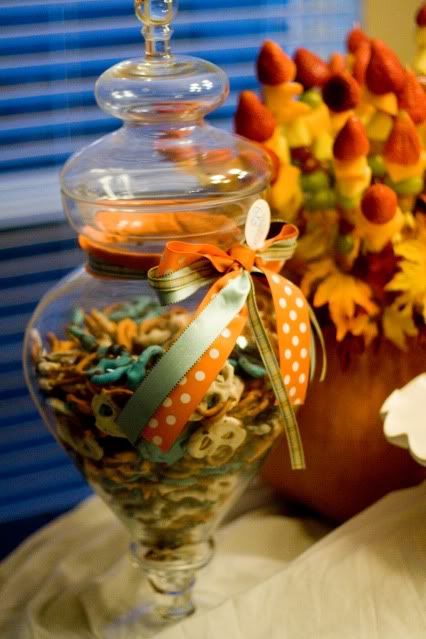 Some of the cute decor we had for the party. Jamie put bows on everything, so cute!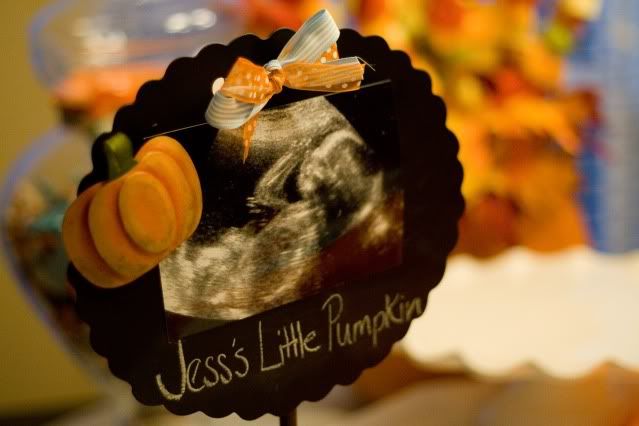 Every guest of honor needs their very own pumpkin patch, don't they? Alot of my time preparing for the shower, was spent painting pumpkins, glittering pumpkins, and putting ribbon on them.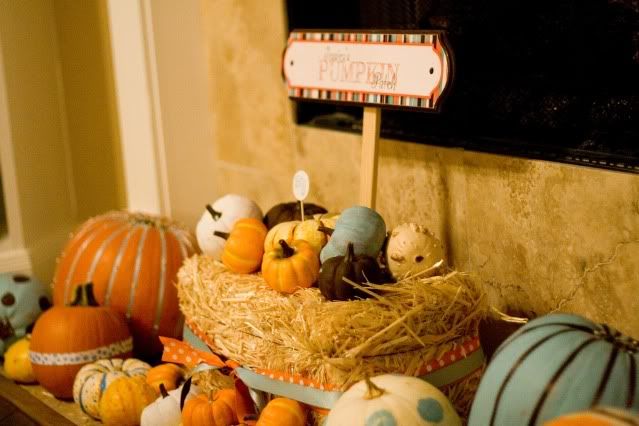 The party favors were these seed bags filled with seasoned pumpkin seeds. The tag said, "grow your own pumpkin baby", love it!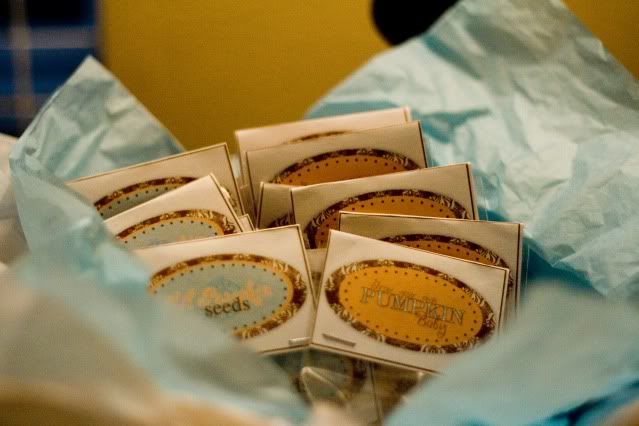 Some of the fun glitter pumpkins. They were so easy to do, and I love how they turned out!
Even the silverware was festive! Or would that be plasticware?
_______________________________________________________________________________
The next Lil' Pumpkin shower I have to show you today was originally hosted by Lisa.
——
This weekend I got to throw a baby shower for one of my closest friends, Katie. We met each other back in our newlywed ward when Mike and I lived in some apartments in Bountiful. I was assigned to be her visiting teacher. We became friends, soon after Mike and I bought our home and we moved away (a whole 2 miles away). Then shortly after that Katie's work had an opening at the U in the Housing Office and I wanted a new job so she told me about it, I was hired, and we worked together for 8 months until she left for another job herself. We spent many, many hours together not only at work, but carpooling for 8 months back and forth to Salt Lake. Our husbands are good friends, both been married 5 years, and now will soon both have little boys. She threw me a shower last year when I was pregnant, and she did such a wonderful job I knew I had a lot to live up to.
I decided to do a "Little Pumpkin" theme since it was the week before Halloween.
These were the invites:

(I blurred out my address and phone number for blog purposes)
I made this little advice book. I bought a blank chipboard book at Roberts for $2.99 then decorated it with ribbon, paper and put some rub-on stickers on the pages inside.
I made this with my moms
Cricut machine
, then just bought some baby socks and put them all up with some mini-clothespins and ribbon.
My mom sent me the idea for these pumpkins. Super easy to make. You can find it
here
.
I also made some Martha Stewart pom poms to go above the food table. You can make these
here
.
For food I made 7-layer bean dip, caramel apple dip, clam dip, veggie tray, Oreo truffles, and Pumpkin Pie Bites.
I was in the kitchen the day before the party making and baking. Its true what they say: things made from scratch taste better, but its also true that its a lot of work.
I think the most work was these Pumpkin Pie Bites. I got the idea
here
from
Bakerella
. Forming the dough in the muffin pan was very time consuming and took me 1 hour to make 1 batch. However, it was well worth the time because they turned out
delicious
.
For favors I made these, (also done on the
Cricut
) I put candy-corn and candy corn pumpkins inside.
Out of all the pictures I took, I was a dork and didn't take ONE of the mother-to-be. (However she can be found on my previous post
Mike's Big Hurrah
if you look closely for a very pregnant woman).
Overall I had a ton of fun planning and preparing this party over the last few weeks. What fun it would be to get paid to be a party planner. Maybe in my next life! I have had lots of ideas rolling around in my head for Emmett's 1st birthday coming up, however after these last 2 parties, he might not get what I've envisioned because his mother is pooped!