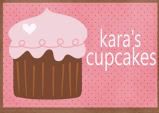 If you are ever looking for a little cupcake inspiration Kara's Cupcakes certainly won't disappoint you! She has so many fun ideas and here are just a few of them….

She even shows you how to make the cutest cupcake earings!
There are so many other really cute, fun, inspiring cupcakes to see. So hop on over to Kara's Cupcakes and get inspired!